New Admin Tools for Managing Facebook Groups
Facebook groups continue to be a relevant place for communities to grow and thrive. For that reason, Facebook has recently introduced some new tools to help admins and moderators better manage their communities, as well as the spread of false information. Using Admin Assist, any incoming posts that have been flagged by third-party fact-checkers as false are now automatically declined, mitigating the spread of misinformation.
Additionally, the former "mute" function has now expanded to "suspend". This means that temporarily suspended members are now unable to post, comment, react, or participate in group chats or Rooms.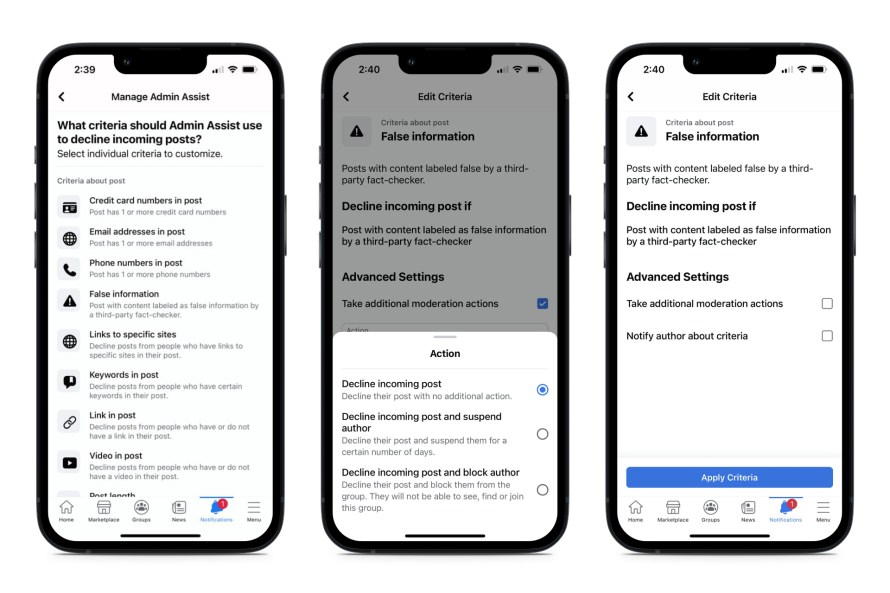 Facebook has also recently introduced QR Codes that admins can download and share, or copy and paste as a way to invite more followers. Users that scan the QR codes are directed to the group's About page, where they can put in a request to join the group. Admin Assist also helps group owners automatically approve or decline member requests based on criteria they have set.
Twitter Testing New eCommerce Feature Called Twitter Shops
With Facebook and Instagram introducing shopping experiences onto their platforms, it was merely a matter of time before Twitter followed the trend as well. Currently, Twitter Shops is undergoing testing, available to only a select number of brands in the U.S. The new feature allows brands and businesses to create a shop and feature up to 50 items on the platform. To visit a shop, a user has to visit the brand's profile page where a "View Shop" button appears and directs them to an in-app browser from the merchant's website.
Should the feature be rolled out globally, this could prove to be a very useful tool to take advantage of, particularly for those brands with active audiences on Twitter. It gives them an additional channel to feature and market their products, as well as increase sales and revenue.
Auto Sellers Testing Out New Google Vehicle Ads
Based on Google's own statistics, about 95% of vehicle buyers go online to look up more information when trying to decide on what car to purchase. As a result, Google has jumped ahead and provided an avenue for auto sellers to gain more exposure and increase their engagement and sales with search ads placements.
The ads will display nearby cars for sale and directly connect users to their search results, giving car sellers more opportunities to engage with potential customers.
At the moment the feature is still only available to those in the U.S.. Those auto advertisers looking to use the new placement have to create an inventory data feed that they will then submit and connect to Google Merchant Centre. According to advertisers that have taken advantage of the new placement, they're receiving an average 25% increase in conversions during testing.
Google AdSense Introduces Related search for content pages
Google AdSense has always been on the lookout to helping online publishers make more money through high-quality ads. Recently, Google has added a new feature that aims to help publishers create more relevant experiences as well. The new "Related search for content" in AdSense works similarly to suggested content that users are more familiar with.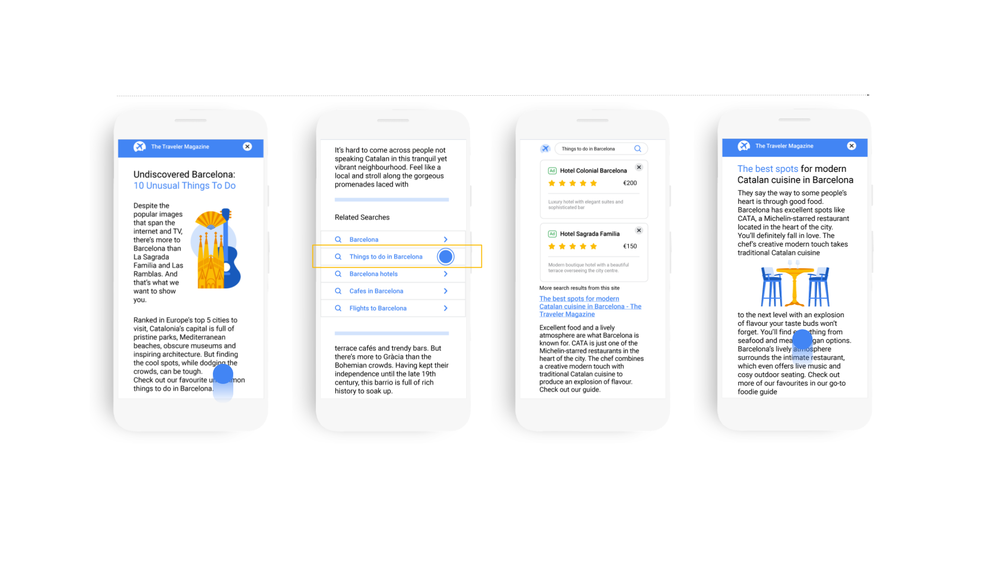 As in the screenshot above, when a reader lands on a website, they are served a "Related Searches" prompt that directs them to other pages on the publisher's website with similar content. This should help websites and publishers increase their overall engagement, pageviews, and impressions.
Google also stressed that this new feature makes use of page content instead of user data to deliver the relevant search terms. This means that cookies are not involved and no user data is being used to deliver these results.
For those interested in using "Related search for content" contact your account manager to help you activate and setup AdSense to maximise this opportunity.